Meeting and
event scheduling

made simple.
Sync makes it easier for global events teams to book and manage meetings, spaces and resources across their annual show program.
We give time back to events teams by eliminating paper or spreadsheet-based systems that cause event managers stress and extra work when organising and managing on-site teams.
Organizing meetings and events can be
hard work.
You want technology that serves your needs, not adds to your stress. Sync is a scheduling, booking and communciation app that allows brands or agencies hosting events to control and command every table, meeting room, vehicle, stage talk and space.
From ensuring meeting rooms are correctly allocated to creating personalised agendas for ever attendee and sales rep, Sync provides clear visibiltiy and control across the whole event.
Save time battling spreadsheets and print outs. Get back the hours you need to host successful events.
Make any space

bookable


at your event.


Award winning events are good. Business-winning events are better. Here's a run down of the value we can bring to you and your team when running your show programme.

Tables
At a busy tradeshow stand, conference or function room, space is at a premium. Log, book and control access to tables across your event.

Meeting rooms
Control access to rooms. Allocate default hosts. Control permissions on who can view and book the room. Set up elegant digital signage tablets.

Transport
From golf carts to taxis, hire cars, fork lifts and coaches. Sync allows you to track, block out, allocate and control them all.

Dining
Manage table allocation at a hired restaurant, organize seating at your gala dinner, or schedule lunch table meetings at your stand or chalet.

AGMs
Manage the agenda, speaker slots and sessions at your AGM or corporate presentation. Let every speaker know where they need to be.

Breakout rooms
Schedule sessions and move your delegates through booked breakouts and discussions. Link to our RSVP registration forms to allow people to choose where they go.

Trucks
Book delivery slots at various gates and bays at the exibition hall, giving drivers simple instructions on timings. Give production teams visibility and control.

Hosted buyer
Map out a hosted buyer or sales networking event. Set up sales people or exhibitors as resources, book in buyers, and deliver clear emails confirmation to all parties.

Speakers
Set up each stage, media room and speaker zone as a bookable resource. Assign speaker slots, and communicate any changes or instructions at the click of a button.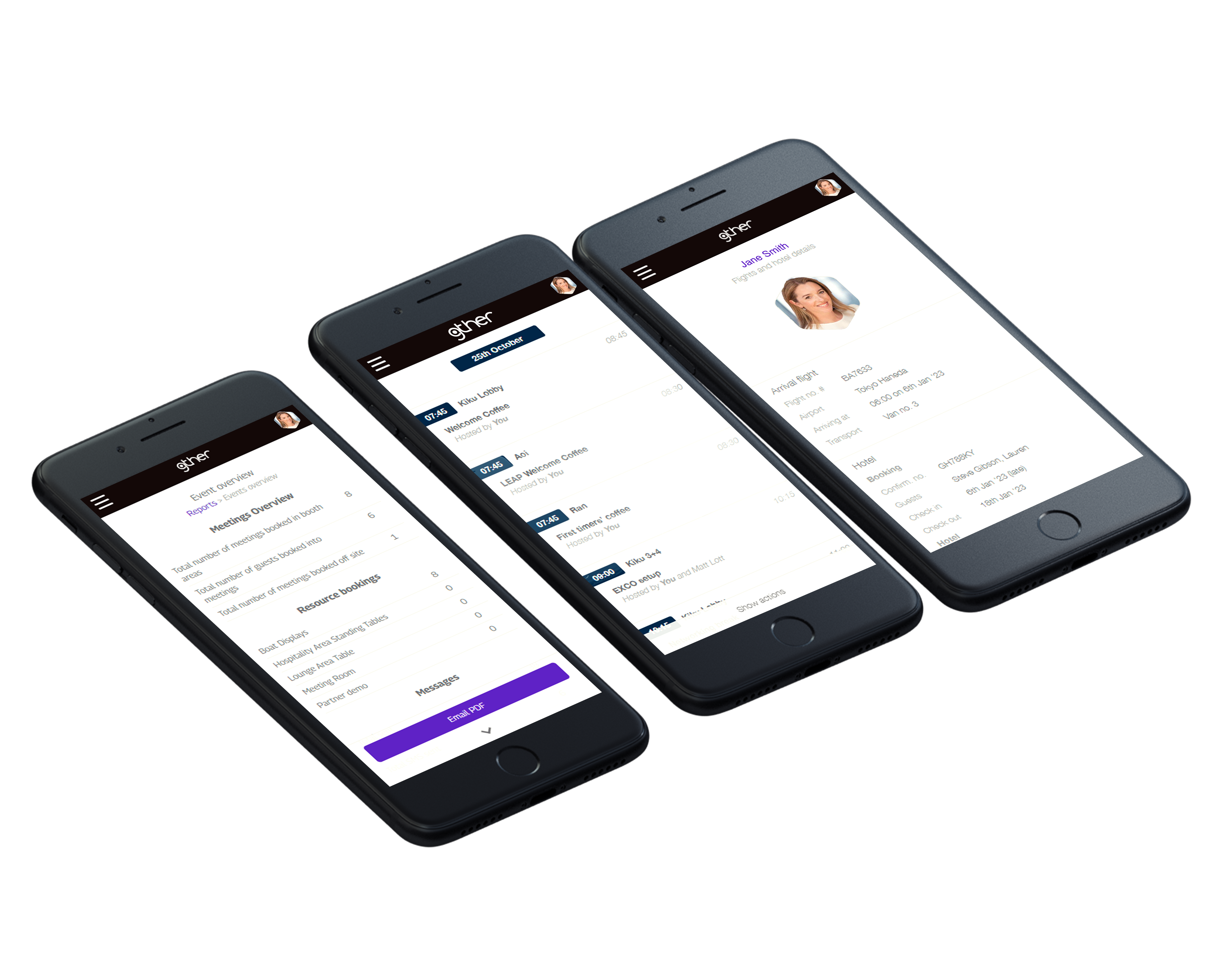 Use on your mobile

on the move


at any moment.

Sync works well when used across many devices. Master the centralized schedule with fine control on a desktop or laptop at check-in.

Check your schedule and Send SMS and Emails rapidly from the mobile version.
Powerful features

to power your events.
Tablet signage
Meeting room tablet displays: see at a glance whether a room is free or in use, allowing unscheduled meetings to be accomodated with ease.
Data Driven
Realtime reporting: capture data as soon as meeting bookings start being made. Adapt and refine events on the fly to maximise efficiency and mesure ROI.
App + CRM Integrations
Connect with our RSVP registration pages, allowing delegates to book their own sessions. Work with us to build custom integrations with your CRM.
Simple To Use
Described as "super intuitive" by Events & Sales teams across the globe. Get set-up and ready to go in a matter of minutes!
Calendar sync
Seamlessly Sync your individual schedule into Outlook, Gmail and iCal. Import and export schedules, users and client lists with the click of a button.
Permissions
Fine control of permissions and access down to the individual user and resource. Make bookings private, and lock down access.
One click

digital signage


on any tablet.

Elevate your chalet or stand space. Install a digiatl signage page for every resource you want to manage, with the click of a button.

Easy wayfinding for meeting hosts and clients to see where they need to go at a glance. Check availability on the fly and book rooms ad-hoc without having to check with an organizer.

Book a demo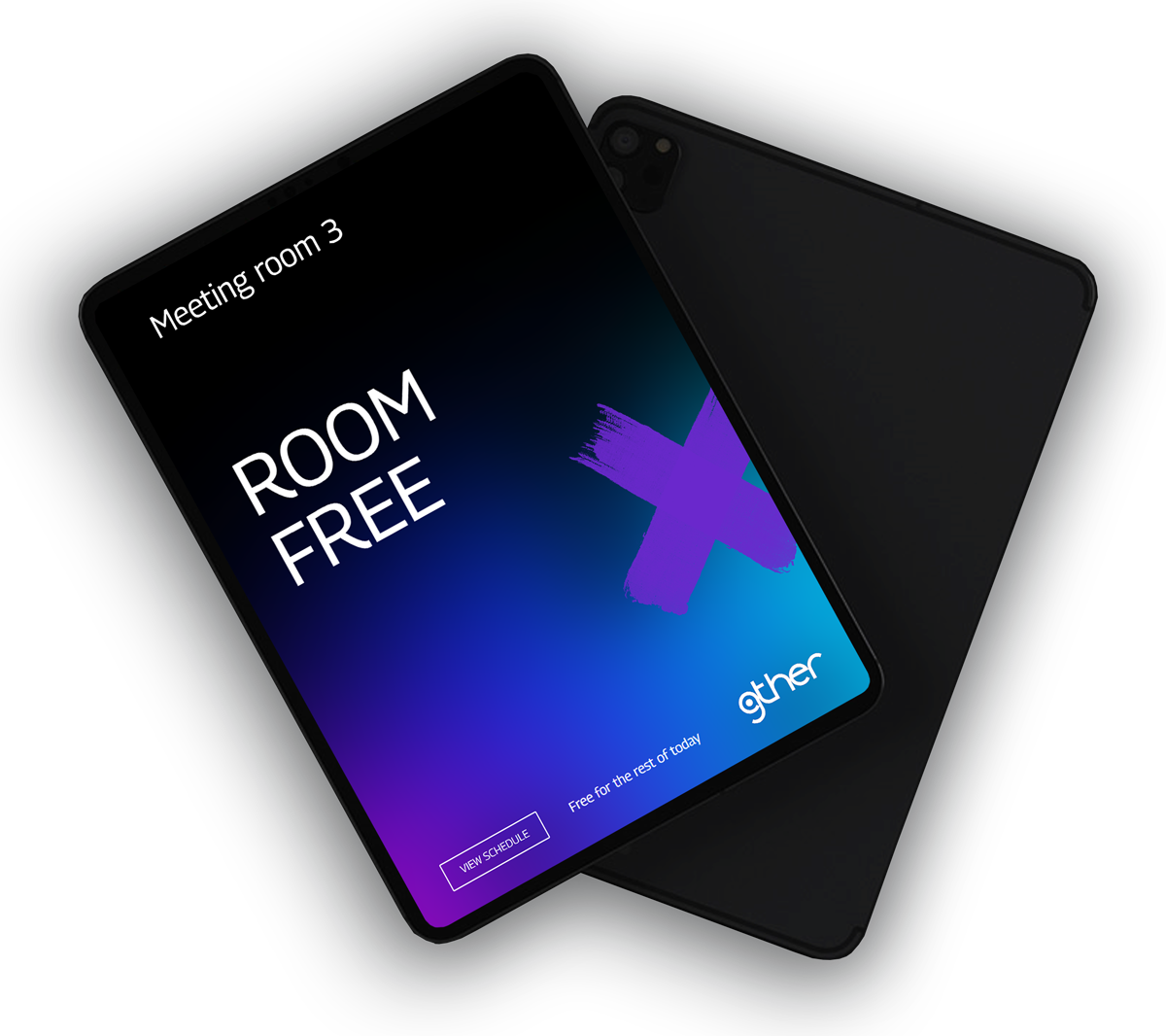 We were incredibly pleased with the platform, and the team at gther. They provided invaluable expertise to make our inaugural Xperience 2021 virtual event a stunning success for our organization, and the platform offered a high quality experience for our attendees.
Vice President of Marketing
10X Genomics

Best Hybrid Event
Silver

Best Virtual Event
Silver Best Event
Technology Best Event
Pharmaceutical

Best Hybrid Event
Silver

Best Hybrid Event
Silver