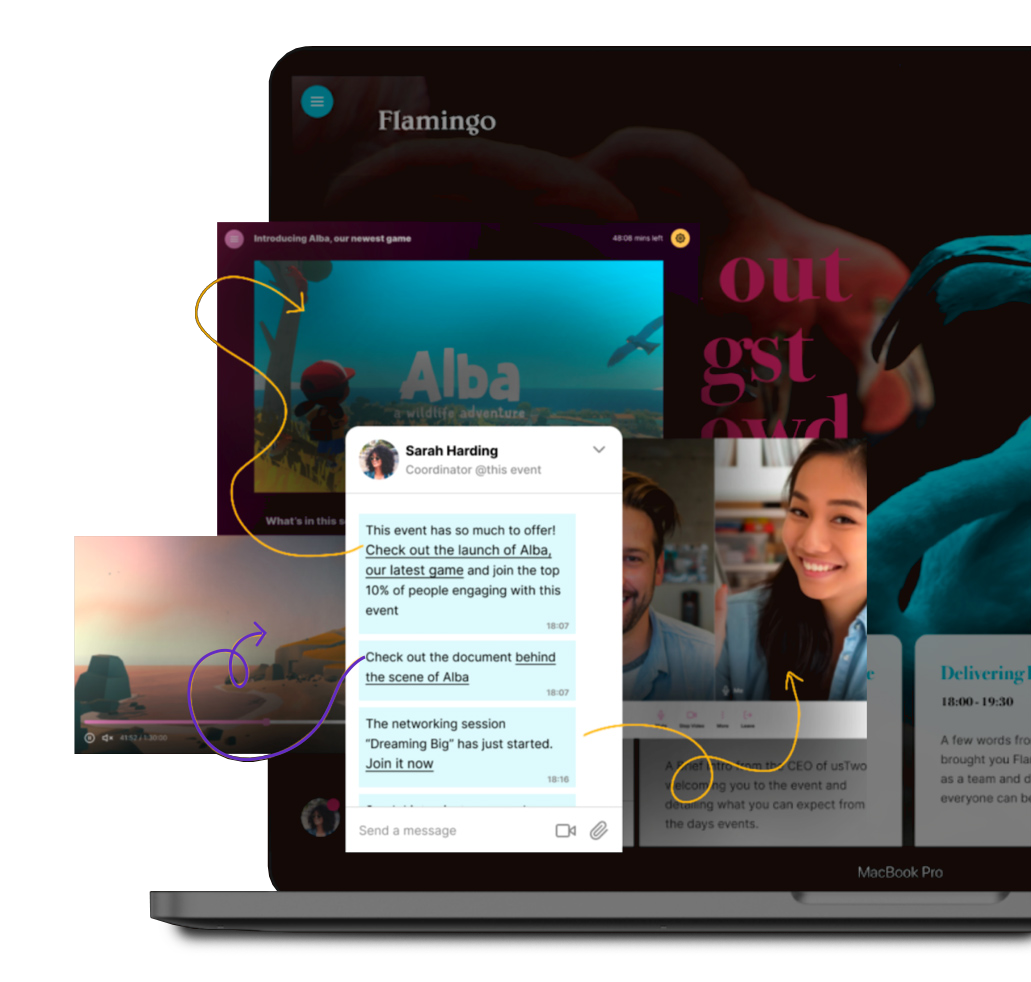 Create cutting-edge
brand experiences

for virtual and hybrid events

Our hybrid platform is the blank canvas you need to create branded, engagement-driven, rich spaces to build communities and create value for attendees.

Next-gen conferences, tradeshows, fairs, sales kick-offs, networking and training need a platform that gives you full flexibility to create any flavour of experience. No code required.
The Swiss army knife
for your
event toolkit.
This platform brings all your virtual event functionality into one place, tied into a clean, minimalist design that's ready to mould itself to your brand.

Meetings and chat
Connect with people in private or group video calls. Share content, collaborate and communicate with high quality chat and video tools.

Livestream
Host your presenters and content simply and reliably. Create an ecosystem that allows viewers to connect, engage and get inspired.

Scheduling and notifications
Always know what's happening via the VX timeline. Any content, meeting or livestream can be scheduled and notified here.

Mobile ready
Be nimble and engage with an audience on-the-go with VX's mobile and tablet ready formats.

Video rooms
Create a thriving online community that facilitates meaningful conversations in a freeform, organic way that mimics a physical event.

Polling, engagement
Integrated with Mentimeter, sli.do, Survey Monkey and other leading engagement apps. Use polling, voting, quizzes, word clouds, Q+A sessions to engage your community

Analytics
Understand a granular view of user behavior and how content is being digested. Spot high and low points in a livestream. Learn and build better events with data.

Meetings
Integrated with gther Sync. All scheduling, calendar and bookings are shared here. Simplify meeting management.

Branded space
Use our CMS to customise branding and content throughout the platform. Curate an experience with your own unique focus.

Embed 2D + 3D content
Create unforgettable moments by integrating game engine experiences and environments to deliver product demos or immersive online experiences.

Personalised
Content scheduling, attendee tracks and powerful permissions mean you can curate and tailor your event content to different groups simultaneously.

Content Library
Share videos, images, data sheets and product or service information in a streamlined, security focused and full-featured media library.
Build your own
branded
event and
community app.
The VX platform can be linked to an iOS and Android app, that is published in a whitelabelled format in the app and play stores. Logo, icon, and styling are all tailored to your brand and managed from VX.
Send push notifications to your delegates and team. Access any event hosted on VX, allow users to register any time. Host an always-on community event to turn your attendees into retainees.
Future proof
your event management
tech and processes
Reduced travel, zero printed materials, and no food waste - VX allows organisations to achieve these goals while still providing an environment for engaging content, inspirational talks, and spontaneous conversations with other attendees.
VX enables organizations to deliver virtual events that not only provide professional and immersive brand experiences but also provide those experiences in a sustainable format.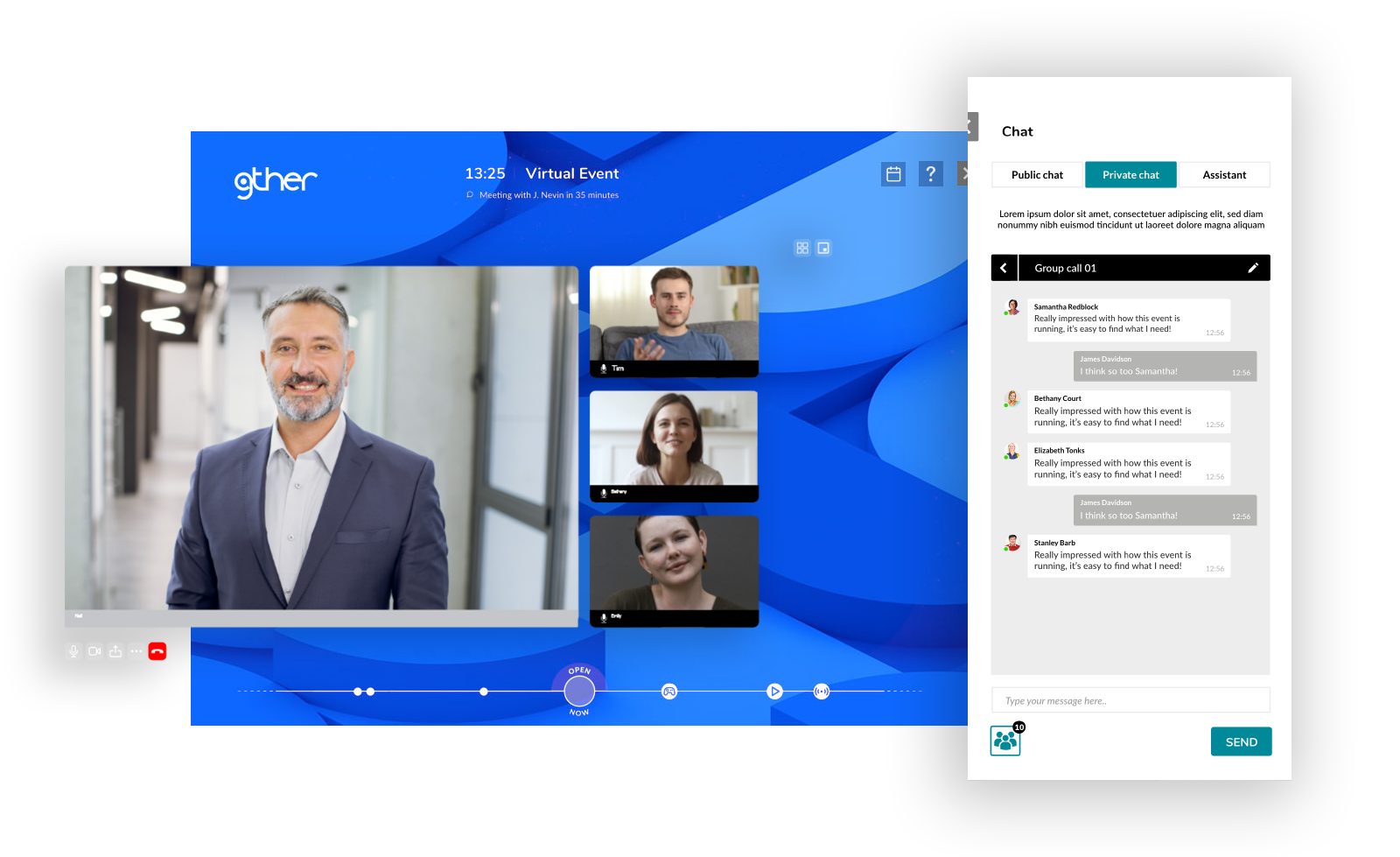 Hybrid
events
built to

a higher


standard.

Award winning events are good. Business-winning events are better. Here's a run down of the value we can bring to you and your team when running your show programme.
5

x

Build events that people come back to. Boost your engagement with variety, personalised content and rich experiences.
100,000

s

Built on rock solid infrastructure than can scale to handle 100,000 attendees as well as it handles 100 attendees. We guarantee 99.7% uptime across the life of your platform license.
2

weeks

Save time setting up and managing your events. Be self-sufficient with our simple but comprehensive admin tools! We build tech that takes a day, not a degree.
2

x

Boost your audience size by going hybrid. Drive towards a net zero event impact by reaching audiences around the world, and reducing your in-person footprint.
We were incredibly pleased with the platform, and the team at gther. They provided invaluable expertise to make our inaugural Xperience 2021 virtual event a stunning success for our organization, and the platform offered a high quality experience for our attendees.
Vice President of Marketing
10X Genomics

Best Hybrid Event
Silver

Best Virtual Event
Silver Best Event
Technology Best Event
Pharmaceutical

Best Hybrid Event
Silver

Best Hybrid Event
Silver